Product Description
Classic Series 2 Stair Nosing
Designed to comply with AS/NZ 1428.1 2009 it features a long lasting aluminium construction, and is paired with a range of inserts with P5 slip rating. The inserts are available in a range of colours to meet luminance contrast requirements, as well as giving a range of design options.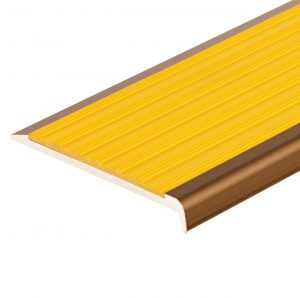 Product Type
Surface Mount with P5 Insert.
Material
Anodised Aluminium Alloy with P5 Tape, P5 Poly, P5 Fibre-Reinforced, P5 Carb or Aluminum Insert
Slip Rating
P5 Slip Rating – NATA Approved Laboratory.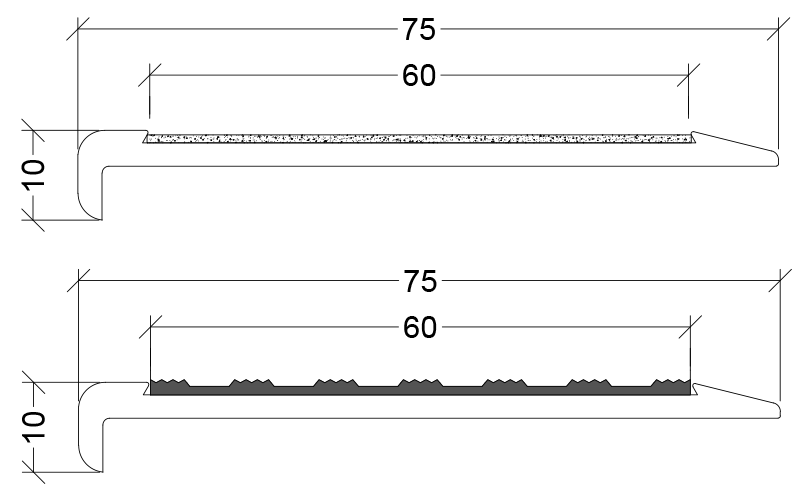 Product Variations:
Clear Alloy
| Colour | P5 Tape | P5 Safeguard |
| --- | --- | --- |
| Black | CS2-75X10-TI-BLK | CS2-75X10-SI-BLK |
| Grey | CS2-75X10-TI-GRY | CS2-75X10-SI-GRY |
| Yellow | CS2-75X10-TI-YEL | CS2-75X10-SI-YEL |
| White | CS2-75X10-TI-WHI | CS2-75X10-SI-WHI |
| Lumo | CS2-75X10-TI-LUM | |
| Colour | P5 Poly | P5 Carb |
| --- | --- | --- |
| Black | CS2-75X10-PI-BLK | CS2-75X10-CI-BLK |
| Grey | CS2-75X10-PI-GRY | |
| Yellow | CS2-75X10-PI-YEL | CS2-75X10-CI-YEL |
| Black / Lumo | | CS2-75X10-CI-B/L |
| Colour | Aluminium |
| --- | --- |
| Black | CS2-75X10-AI-BLK |
| Clear | CS2-75X10-AI-CLR |
| Brass | CS2-75X10-AI-CBR |
Black Alloy
| Colour | P5 Tape | P5 Safeguard |
| --- | --- | --- |
| Black | CS2-75X10-B-TI-BLK | CS2-75X10-B-SI-BLK |
| Grey | CS2-75X10-B-TI-GRY | CS2-75X10-B-SI-GRY |
| Yellow | CS2-75X10-B-TI-YEL | CS2-75X10-B-SI-YEL |
| White | CS2-75X10-B-TI-WHI | CS2-75X10-B-SI-WHI |
| Lumo | CS2-75X10-B-TI-LUM | |
| Colour | P5 Poly | P5 Carb |
| --- | --- | --- |
| Black | CS2-75X10-B-PI-BLK | CS2-75X10-B-CI-BLK |
| Grey | CS2-75X10-B-PI-GRY | |
| Yellow | CS2-75X10-B-PI-YEL | CS2-75X10-B-CI-YEL |
| Black / Lumo | | CS2-75X10-B-CI-B/L |
| Colour | Aluminium |
| --- | --- |
| Black | CS2-75X10-B-AI-BLK |
| Clear | CS2-75X10-B-AI-CLR |
| Brass | CS2-75X10-B-AI-CBR |

Cataphoresis Brass
| Colour | P5 Tape | P5 Safeguard |
| --- | --- | --- |
| Black | CS2-75X10-C-TI-BLK | CS2-75X10-C-SI-BLK |
| Grey | CS2-75X10-C-TI-GRY | CS2-75X10-C-SI-GRY |
| Yellow | CS2-75X10-C-TI-YEL | CS2-75X10-C-SI-YEL |
| White | CS2-75X10-C-TI-WHI | CS2-75X10-C-SI-WHI |
| Lumo | CS2-75X10-C-TI-LUM | |
| Colour | P5 Poly | P5 Carb |
| --- | --- | --- |
| Black | CS2-75X10-C-PI-BLK | CS2-75X10-C-CI-BLK |
| Grey | CS2-75X10-C-PI-GRY | |
| Yellow | CS2-75X10-C-PI-YEL | CS2-75X10-C-CI-YEL |
| Black / Lumo | | CS2-75X10-C-CI-B/L |
| Colour | Aluminium |
| --- | --- |
| Black | CS2-75X10-C-AI-BLK |
| Clear | CS2-75X10-C-AI-CLR |
| Brass | CS2-75X10-C-AI-CBR |
Suitable Substrates:
| | |
| --- | --- |
| Tiles | Exposed Aggregate |
| Pavers | Concrete |
| Rubber | Timber |
| Vinyl | |